19mm Manual Steel Banding Strap Tensioner & Clamp
The steel strapping tensioner kit is designed with a special structure, which is suitable for simple packaging of heavy and bulky items, simple and easy to operate, and easily realizes the tightening and packing of steel, aluminum ingots, and heavy packaging.
Description
Scope of application: steel strapping with a width of 12-16mm and a thickness of 0.3mm-0.6mm. Performance characteristics: steel banding tensioner is made of high-quality steel, advanced technology, meticulously manufactured, beautiful in appearance, easy to use, durable, strong in packaging, and used for all kinds of packaging and bundling.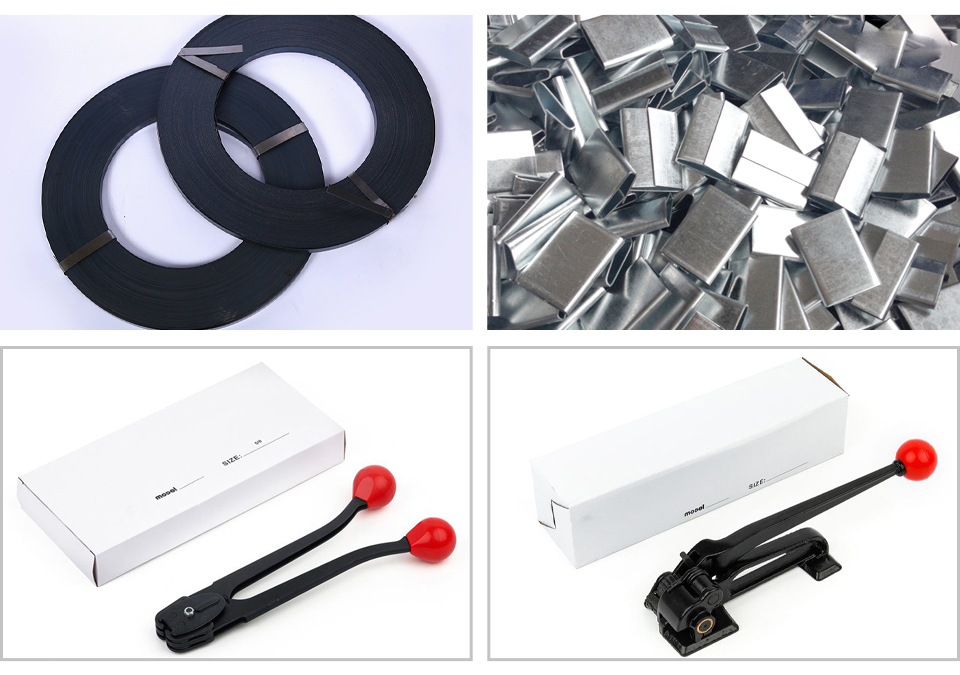 Feature
The steel strap is made of high-quality fire steel and is fixed by the triangle principle, which makes the jaw rotation more flexible, and the vulnerable parts are easy to replace.
The steel banding tensioner has a high durability rate, and each component is made of high-strength alloy materials and processed by a special process.
The handle of the tensioner adopts ergonomic design to prevent slippage and warp wear, and the grip is comfortable, and the hand feels comfortable.
The clasp pliers have thickened teeth, which make the bite stronger, durable, and easier to pack.
The tightening force of the tensioner is large, and it is easy to pack various heavy objects such as steel, aluminum ingots, wood and metal products.
Maintenance
1. The steel strapping tensioner is made according to the mechanical principle, if the user maintains it properly, it can greatly extend the service life.
2. The banding tensioner should be kept clean and lubricated frequently.
3. Regularly check the wear degree of the pressure roller and fixed teeth of the tensioner.
4. The steel strap used for packing needs to be within the scope of application of the steel tensioner. Some clamp pliers have adjustment blocks, which can be selected by themselves.
5. After the steel strap is tightened, when removing the tensioner, push out the top pawl handle first, do not squeeze the handle and the main body first, so as not to damage the pressure roller.
Application
Make packaging no longer a hassle. It is widely used in the paper industry, aluminum industry, steel, wood, wooden box packaging chemical fiber, cotton spinning, chemical industry, metal products and other industries.