PET Woven Packaging Strapping Dispenser Reeling Cart
Fix the packing belt in the reeling car to effectively prevent the packing belt from being scattered. When packing, use the brake device to control the required length of the packing belt. The user-friendly toolbox design can centrally manage scattered packaging tools.
Description
The strapping dispenser is an important auxiliary tool when using strapping and strapping machines, making the messy packaging environment standardized and tidy. This product can be divided into general type and special type according to the specifications of packing belt. This product is designed to be lightweight, convenient and durable, with a tool box on the body, which can store the packer and packing aids.
Feature
It is designed in European style, easy to disassemble and assemble, light and firm.
It is highly mobile, firm, not bulky, and easy to operate.
Its toolbox design makes the packaging environment more standardized and cleaner.
It is equipped with a humanized large-capacity tool box, and the customer's packaging machine can be placed in the tool box, which enhances the packaging efficiency and high comfort.
It has wear-resistant and non-slip rubber wheels and adopts the principle of roller bearings to replace the old foam wheels and increase the service life.
It has a wheeled chassis, with wheel brake device, high sensitivity, stop when you want to stop, and effectively control the length of the strap.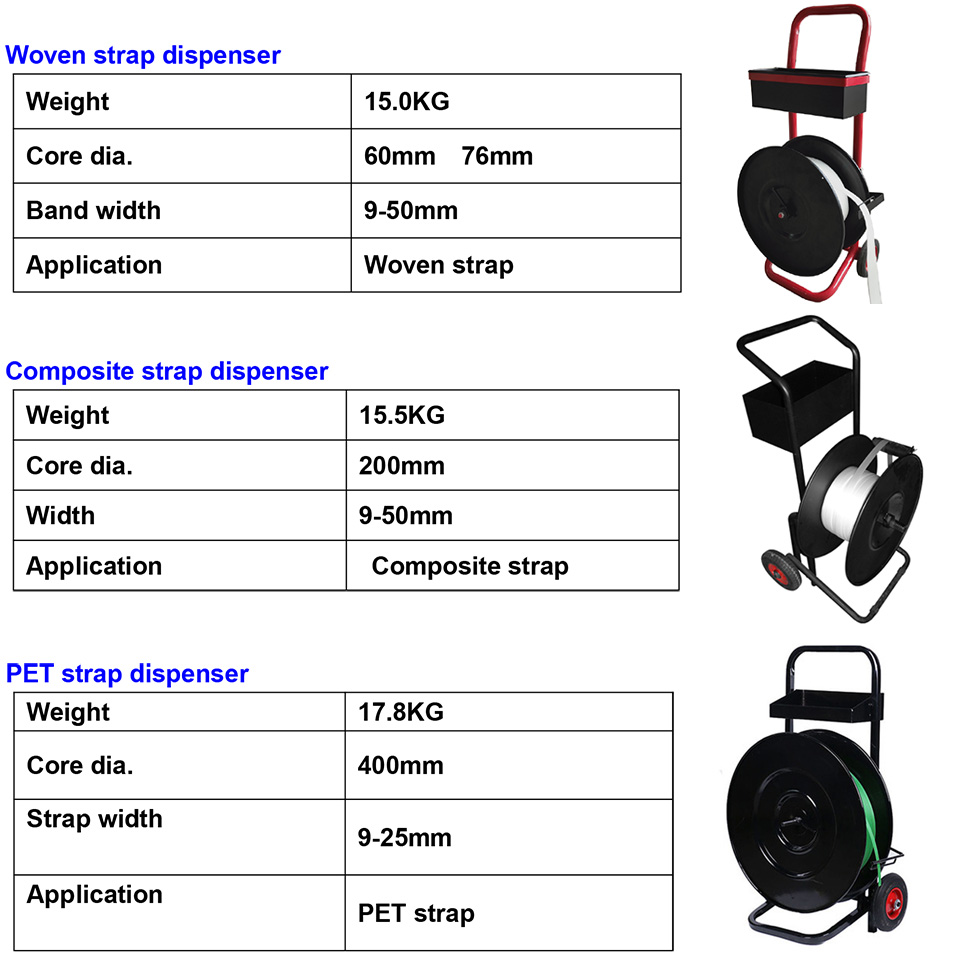 Application
Strictly speaking, this strapping dispenser is mainly designed by users of PP strapping, PET strapping, composite fiber strapping, and polyester woven strapping. The discs of the reeling cart are suitable for packing strap with a bandwidth of 9-50mm, and suitable for various strapping band with an inner diameter of 200mm paper cylinders. The upper and lower covers are pressed and fastened.
Through users' regular use of our reeling car, someone takes this car to install polypropylene strapping, polyester strapping, composite fiber strapping, polyester woven strapping, because as long as the inner diameter of their paper tube meets the disc diameter requirements of the reeling cart.