Steel Strapping Dispenser For PP/PET Packaging Strapping
Strapping dispenser is an important auxiliary tool when using portable packer, which makes the messy packing environment standardized and tidy. This strapping cart be divided into general type and special type according to the specification of packing strapping.
Description
Qianyi packaging products Co., Ltd. specializes in producing all kinds of packaging accessories such as packaging belts, packaging tools and packaging materials, including PP packaging straps, PET packaging straps, steel wire buckles, square buckles, packaging strapping tensioners, packaging strapping cart, etc. We continue to launch scientific and technological innovative packaging solutions to reduce the cost of packaging materials and improve the product image for customers, which is conducive to market competitiveness.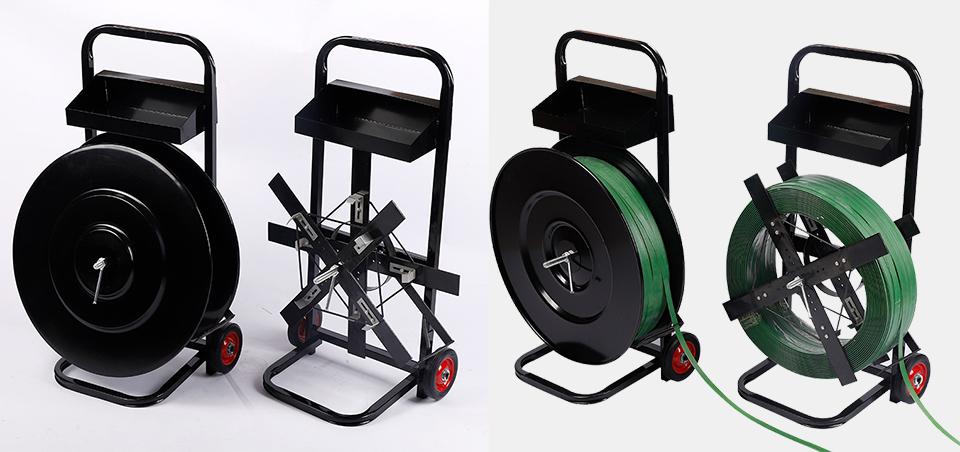 Feature
Clever body. The strapping dispenser can move the body at will when packing. The flexible application is convenient for packing. When using the packing belt, it is convenient and labor-saving, which is conducive to the tidiness of the work site.
Curved shaped handle. The strapping cart is made according to ergonomics, the height of the body is comfortable for ordinary hands to hold the car. The curved design of the handle with the wheel makes the grip feel comfortable and effectively avoids the possibility of hand injury.
Rubber roller. Roller with rubber material, high elasticity, large weight, no need to worry about deformation, long service life.
The toolkit. Strapping dispenser body is equipped with a tool box for storing all kinds of packing tools to facilitate work.
Nut with handle. Its tray has a fixed nut, built-in handle, easy to disassemble.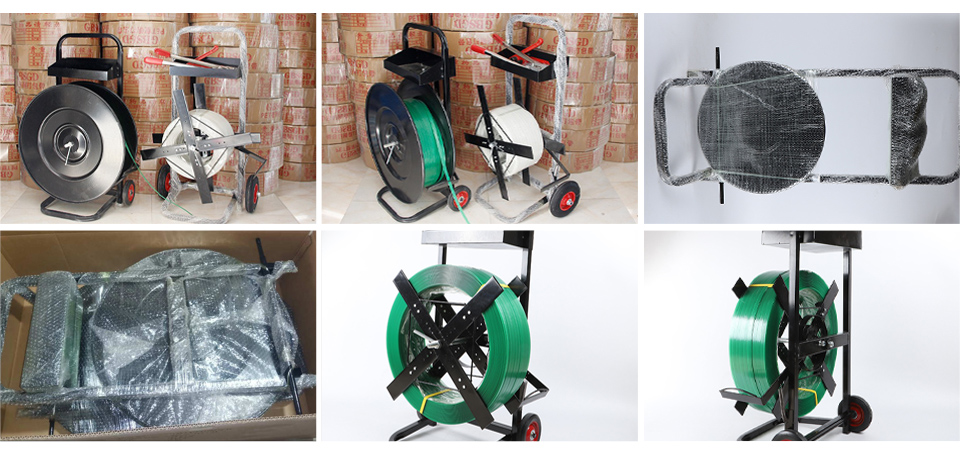 Specification
Product Name: cross large strapping dispenser with turning gear
Strapping dispenser dimension: 550x400x1050mm
Tool box dimension: 370x200x100mm
Strapping cart weight: 15kg / 17kg
Applicable objects: plastic steel strap / PP packing strap / Pet packing strap
Specification of turning belt: packing strap inner diameter of 200-400mm
Load of dispenser: 80kg
Advantages: wear-resistant rubber wheel, internal brake
Application
Mainly cooperate with the packing work of PP, PET, polyester fiber straps and steel straps. With tool box, can store packing tools and accessories. Easy to use, light and durable. Mainly used in stone, building materials, machinery, wood, steel, electronics, logistics, printing and other industries.